Holidays in mountain of Mercantour, seasonal rented guest houses for a stay with subject to Saint Dalmas le Selvage in the South Alps ( the maritime Alps) meadows of Auron Isola 2000, ski resorts Our hosts' house proposes hosts' table. excursion,moutain bike,climbing,fishing
Above, click to see photos of our small end of the world.....
Alexandra And Patrice will welcome you warmly and invite you to delight in the natural environment and family atmosphere. La Maison de L'étoile is set in a wild and protected area 'far from the madding crowd',close to the Bonnette pass , Europe's highest road.

Cultural and sport activities are part and parcel of the place.
Alexandra and Patrice have chosen this far away place to reconcile their philosophy of life and thair love for nature and environmental causes.
It provides an excellent standpoint on the rich fauna mainly composed of chamois, mouflons, wild goats, marmots, birds of prey and the flora with its amazing diversity .You'll find wild orchids as well as gentian, lis etc…
But the true hero is the wolf which presence has strongly marked the place .
We remain at your disposal to guide you in your discovery of the area and its environmental , architectural interests as well as its remarkable quality of life.
As they are also interested in art like music, theater or painting they have decided to share their passion and artistic curiosity with you. That's why they also organise evenings, weekends and even full weeks around a set of artistic themes.
Bpath Compteur
The guest house La maison de l'étoile has woven its web in a small village , St D.le Selvage . Up there, where the road ends, this genuine village surrounded by vegetable gardens and fruit trees will charm you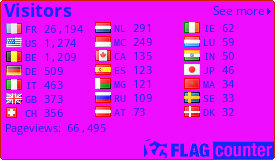 http://la-petite-etoile-d-hotes-en-mercantour.e-monsite.com/